Most companies are not intrapreneurial, or not yet. But there is an increasing interest in intrapreneurship and a community of people eager to learn and drive change. These were the key takeaways from the MERIT Regional Summit on 13 November 2019.
A highly engaged group of HR and L&D leaders from various industries gathered in Manchester for a day of expert talks, peer case studies, and group discussions about how to make an intrapreneurial culture a reality.
The dire data on intrapreneurship
Jeremie Brecheisen of Gallup started the day with some daunting data: we live in an age of disruption, and the majority of businesses are unprepared for it.
The life expectancy of Fortune 500 companies has declined to less than 15 years, whereas it used to be 75 years half a century ago, Jeremie said, citing data from Deloitte. Additionally, companies that are publicly listed have a one in three chance of getting de-listed within five years. Those two findings are enough to show that agility is not just a buzzword – it is a vital necessity. Most employees in Europe do not feel that their companies are agile, even as efforts are being made in that direction, according to Gallup's research. "Change is killing companies," Jeremie said.
But Jeremie's talk was not simply a sombre diagnosis. He also provided a framework for creating agile companies. His eight principles of agility included a willingness to learn from one's mistakes and empowering people so that "decisions are made where the action is". Further, innovation should be a shared mission and not "an R&D thing". Jeremie also highlighted transparency and interdepartmental collaboration. So, there are solutions to the agility problem – Gallup's research simply shows that "we're not doing these things."
The big question that delegates at the Summit discussed for the rest of the day was, how can we do it? One audience member asked Jeremie, "What happens when your biggest blocker to developing agility within the organisation is your executive committee? What tips would you give to the HR community to break through that?" The room burst out into laughter – this issue was on everyone's mind.
Jeremie's answer was to disrupt HR and change their role within the organisation. "HR transformation needs to be: stop thinking of yourself as internal consultants and start thinking of yourself as business leaders," he said. "You need to just go to your executives and you need to say, 'I've got data'… Make it a business conversation." The dire data, Jeremie suggested, can be used to our advantage.
Different paths to the same goal
Different viewpoints on intrapreneurship strategy came up in a moderated debate with Alex Kotsos, HR Director of Brown Bag Films, Aernout van Heusden, Business Development Director at the Academy for Corporate Entrepreneurship, and Paul Coyle, Founder and Director of the Entrepreneurial Mindset Network.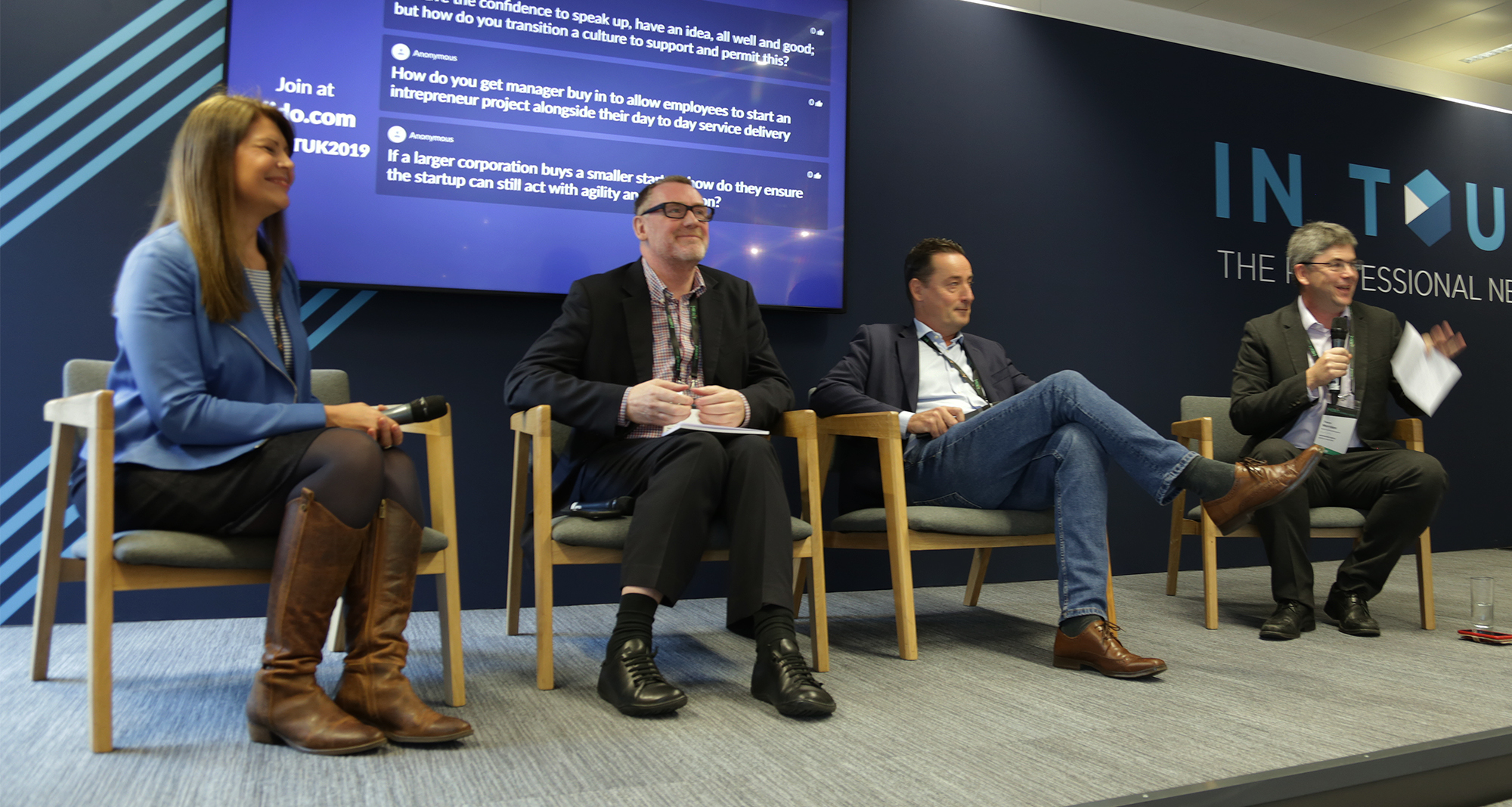 All panellists agreed that intrapreneurship is imperative today, but they had different suggestions about how to get there. For Aernout, it is a matter of talent development: "Not everyone will have the balls to come out and say something, and those are the people that you need to find," he said. Disagreeing, Alex put culture first: "I don't think this is about whether you 'have enough balls' or not. People need to feel as though they are in a psychologically safe environment." Alex believes that there are great ideas in every organisation, and they can be leveraged so long as people are being listened to. Paul concurred, and shared that he has heard too many people say the bravest thing they could do at work is to simply be honest.
Questions from the audience popped up on the screen during the debate, showing that many in the room were grappling with the same issues. One respondent asked, "To have the confidence to speak up, have an idea, well and good; but how do you transition a culture to support and permit this?"
An answer to this query came in the form of a masterclass by Guillermo Cisneros. Guillermo spoke in his capacity not as a professor at ESADE, but as a serial intrapreneur who wanted to share how things look from the other side. HR can make a difference for intrapreneurs, Guillermo said. Practical tips included evaluating and compensating intrapreneurs based on different criteria to other employees, and planning ahead for both success and failure. If a venture fails, for example, HR should have a plan for reintegrating the team who worked on it.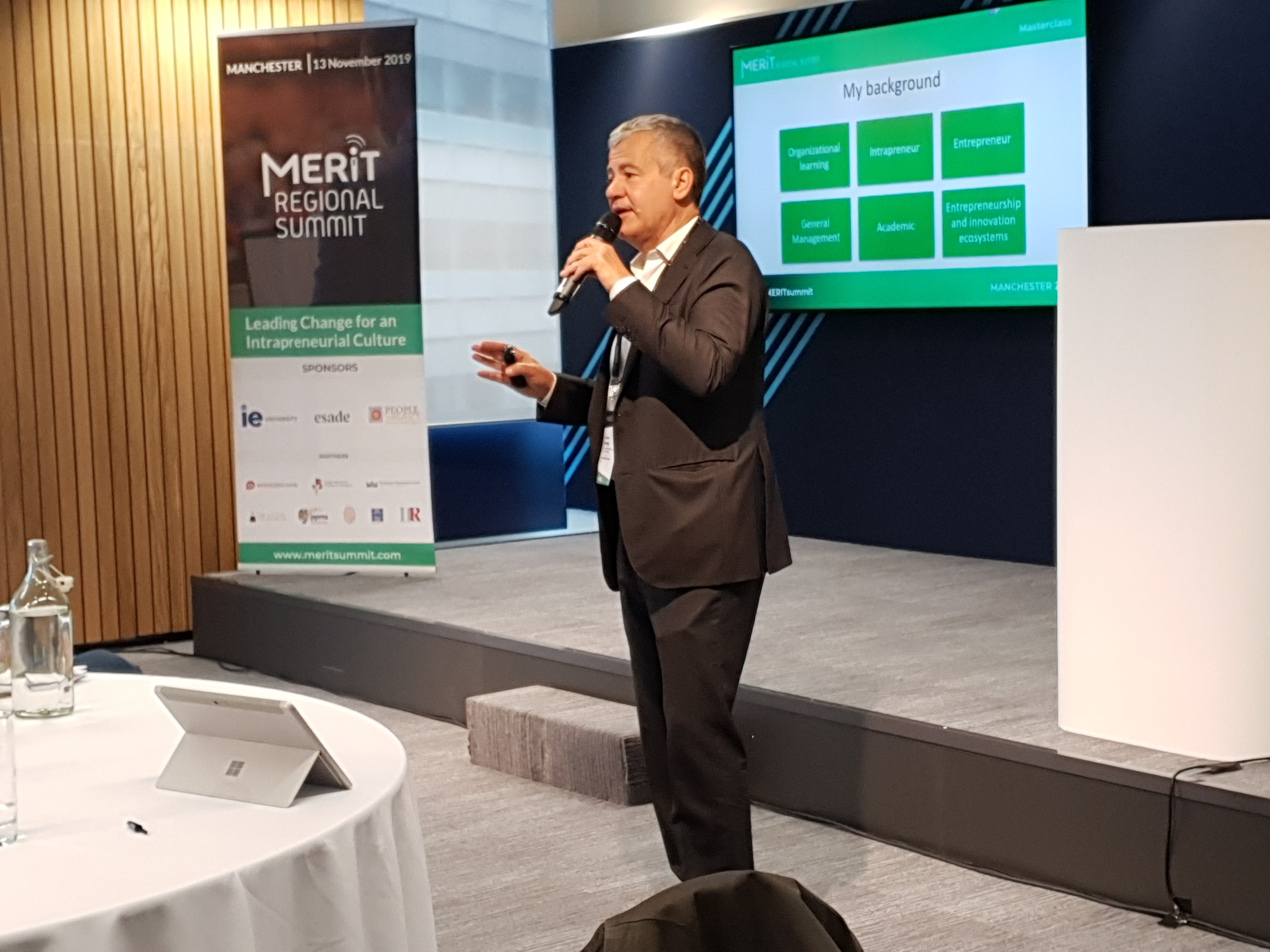 We also heard success stories and hard-earned wisdom from HR and L&D practitioners. In three case studies, peers shared how they are driving change at their organisations. After dramatic restructuring at his company, Addie van Rooij of HPE decided to go on a three-month "retreat", during which he attended multiple conferences and benchmarked peers. Addie realised that he had to think bigger and transform himself and his team, rather than just react to day-to-day issues. As he said, "The problem is, what problem are you trying to solve three years from now?" Addie developed a philosophy of transparent leadership – he practises being open about the risks the company is facing, and the need for employees to gain new skills in case their roles change in the future. This openness has increased motivation and engagement.
Alan Whiteside of Syngenta and Michael Gower of PMI focused on learning solutions that can build a company's culture. Alan described Syngenta's 3PM Academy, which trains people to be catalysts of change and to practise "servant leadership". This drives collective rather than top-down decision-making, one person at a time.
For his part, Michael explained the strategic approach to learning that allowed him to streamline processes, cut costs, and increase innovation. Previously, dozens of providers were used across the company to teach the same skills. Investing in a new learning framework saved money, freed up funds to reinvest in innovation, and increased employee satisfaction, because everyone now had equal access to the same resources. As Jeremie from Gallup had suggested, Michael showed that making a business case for transformation really works.
Working together to overcome resistance
In her closing keynote, Ginette Oliver of Rising Vibe again tackled the question of leadership, an issue many in the room were concerned with. Her organisation's research shows that role modelling by senior executives is what makes culture change programmes most impactful. Yet, often, when executives hire her firm, "it's kind of, 'go fix my people – I don't have the issue, it's them.'" Audience questions pushed on the issue of bringing senior leaders on board. In the case of resistance, Ginette suggested, it is possible to begin from the bottom up, demonstrate that intrapreneurial behaviours work, and then scale up.
In the unconference session, participants were eager to share experiences and design solutions together. Paul of the Entrepreneurial Mindset Network moderated a discussion on changing an organisation's mindset. Everyone at the table proposed solutions, which included role models within the organisation, regular feedback, and identifying the barriers to change. The brightly-coloured sticky notes that everyone contributed made up a collective blueprint for culture transformation. At another table, delegates discussed storytelling as an approach to intrapreneurship. "Intrapreneurial culture is where everyone gets the chance to be the hero," they agreed, and telling a different story about your own role can help get you there.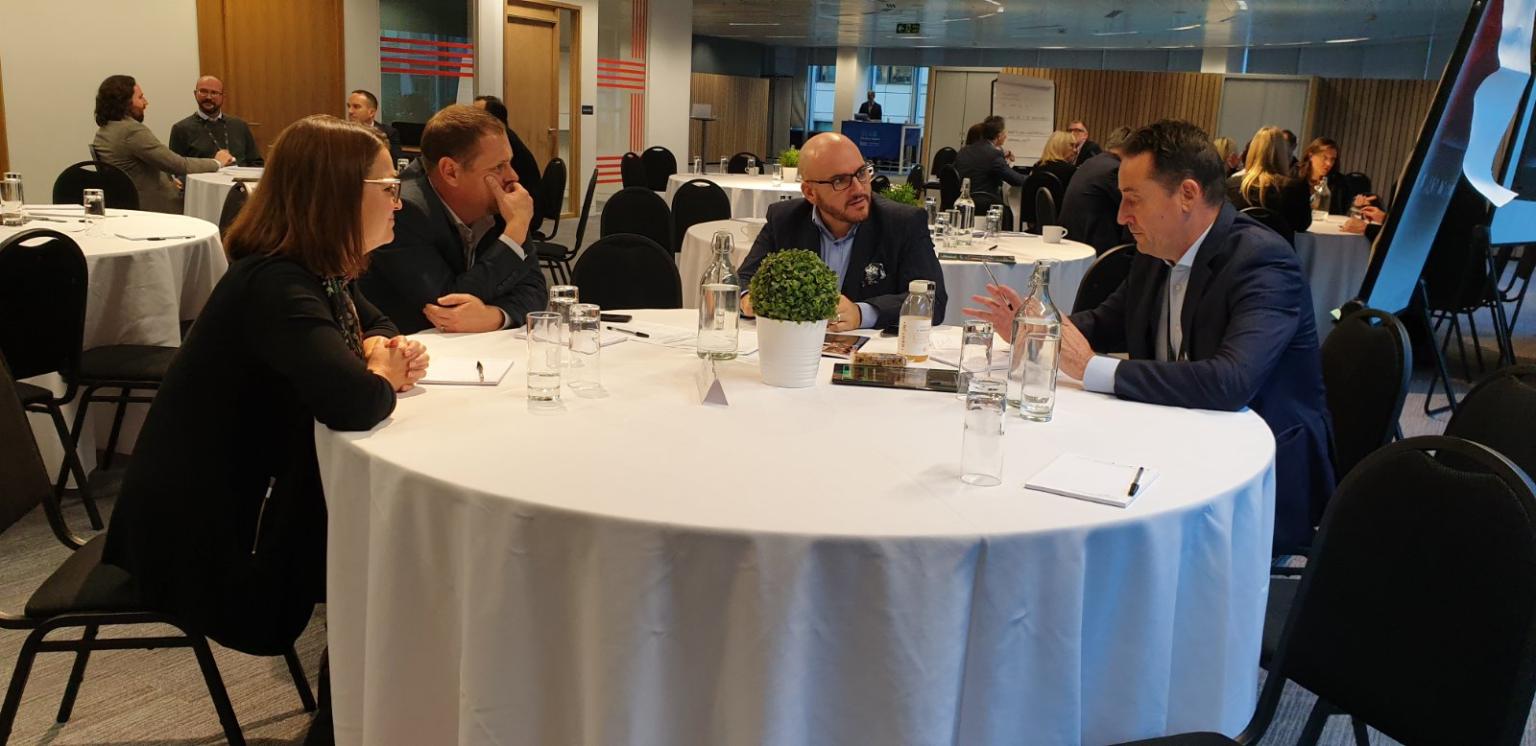 Summit participants appreciated the in-depth knowledge sharing on intrapreneurship and the connections with like-minded colleagues. Internal resistance in their organisations was a key topic throughout the day; at the MERIT Summit in Manchester, they met others committed to overcoming that resistance.
Paul Coyle said, "I think that people went away with a clear idea of the actions that they are going to take as a result of attending the Summit today." Addie of HPE shared that he would like to literally bring the Summit back with him – he may ask some of the speakers "to come to my team or to the HR leadership team at my company and talk to them about their findings." Keeping these valuable connections and taking action – that is how intrapreneurship happens!
Eager to meet like-minded peers and drive innovation at your company? Join us at the MERIT Annual Summit in Seville on 5-6 February, "Leveraging a Mindset of Innovation".
By Ani Kodjabasheva